★ Cuban Exchange
This is a lovely bar in the centre of Wolverhampton, and it is one of the best places for nightlife. Previously, this was a pub. However, owners really worked hard to make this place an enjoyable and peaceful bar where you can sit and talk with your friends. The bar staff is very friendly, and the music is great. The place is always busy and offers great cocktail drinks and shots. It is surely worth a visit.
★ City Bar
City Bar serves excellent food, freshly prepared combination of tradition fare and European food. You can find a broad range of vegetarian or vegan food, dairy free and gluten free diets as well. You can also enjoy vegan and gluten free puddings, as well vegan ice cream, cream, and custard. Besides, the place is affordable and it is located in the centre of Wolverhampton.
★ Giffard Arms
This is Wolverhampton´s only rock pub, which offers great music and excellent drinks. It gets very busy, especially on Fridays and Saturdays. It can be intimidating for everyone who is not familiar with the club because of the pub´s unique style and decoration, but it is a warm and nice place with welcoming and friendly staff.
★ Great Western
This is an awesome pub which offers an excellent choice of beers and tasty food. The place is very busy, especially during the big match days. However, the staff is working hard to serve you on time. It is a gem of Wolverhampton and surely a place you should visit.
★ Quadrant Lounge
This is an excellent, modern bar in Wolverhampton city centre. It attracts a different clientele, and it is a very relaxed place where you can enjoy drinks and food with your friends since it is not very busy. They also offer excellent cocktail drinks, which can be a bit pricey. The staff is very friendly which contributes to the overall atmosphere at the bar.
★ Mermaid Inn
This place is of the Vintage Inn brand which means that includes the standard decor with lots of dark wood stone floors, wooden beams, and other vintage elements. It offers excellent ales, great pub food, and delicious desserts. However, it is a bit more expensive. Besides you can also enjoy cosy warm fires during the winter. The staff is friendly, helpful, and welcoming for both foreign and city guests.
★ The Planet
It is the place where you want to experience and explore all the benefits of Wolverhampton´s nightlife, the place where you can dance all night and drink as much as you can. The Planet offers regular drink promotions and different music on two levels. The whole place is usually dark with colourful and bright blinking spotlights. However, that does not seem to be a problem for young generations willing to party.
★ Rileys American Pool & Snooker Club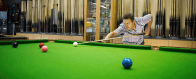 If you enjoy sports, then this pool and snooker club is the right choice for you. It is open 24/7, so if you are interested in a pool match or two at some strange time, this is an excellent option. The atmosphere is really cosy, with dimmed lights, big screen for different sports events and friendly bar staff. Here you can enjoy watching big Premier League games as well as American sports events which can go late into the night or early in the morning.
★ Grand Theatre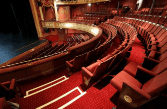 The Grand Theatre offers an extraordinary and unique experience for everyone. The interior is breathtaking, and it certainly contributes to the atmosphere, no matter which shows you came to watch. There is a decent variety of shows presented regularly, and the process can go up to £25 for better seats. Besides, the theatre is comfortable and clean, and the staff is always polite and friendly.
★ Fox & Anchor
This is a very warm and comfy place which offers five distinct seating areas, and this makes it ideal for different kinds of socialising activities. Even though they offer a broad range of pub food with large, tasty portions, they offer only three real ales on tap. At busy nights the table service can be a bit slow, but the staff is really trying hard to provide you with an enjoyable experience.